As the third installment of the Indiana Jones saga airs tonight on M6, let's take a look back at a very important little canine detail that hides at the start of the film.
Have you always dreamed of following in the footsteps of Indiana Jones and exploring cursed temples and ancient ruins to unearth ancient artifacts? Why not play archaeologist right now in front of your television, and start your career as an excavator by carefully inspecting the feature films of the famous saga?
While Indiana Jones and the Last Crusade, the excellent third installment of the franchise, is being broadcast this evening on M6, let's stop for example on a small detail located at the beginning of the film, and which is in reality much more important than one might think.
At the end of the opening sequence, when the young Indiana Jones takes refuge at his home after having stolen Coronado's cross from the grave robbers, he passes right in front of a dog lying in the entrance of the house, and the 'we see on the screen the space of a very short moment (at 10 minutes and 10 seconds from the film exactly).
At first glance, this animal is nothing exceptional, and its presence simply tells us that the famous adventurer had a four-legged companion in his youth. But as we learn in the very last seconds of the film, this dog was much more important than that for the young man. Indeed, he simply gave it… his name.
Upon leaving the Temple of the Grail, Indy's father, played by Sean Connery, reveals that his son's real name is Henry Jones Jr., and that originally Indiana was actually their dog's first name. An animal that has left « very moving memories » to the young man, to the point of pushing him to take his name and make it his own pseudonym.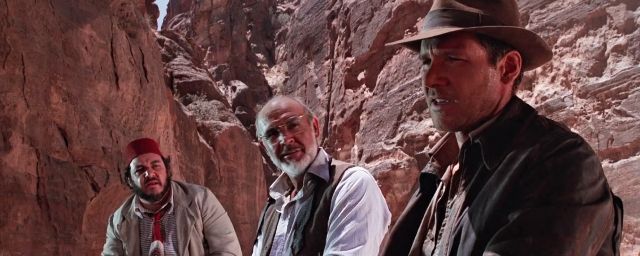 But the wink does not stop there, because the dog in question does not belong to any species. It is indeed an Alaskan Malamute: exactly like the canine companion of George Lucas in the 70s, which the father of the Star Wars saga had named (we give it to you in a thousand)… Indiana!
As the screenwriter and producer of the Indiana Jones saga himself confided, his Malamute therefore directly served as inspiration to create the famous archaeologist… but not only!
Indeed, the filmmaker's doggie, imposing and hairy, was also used to sitting in the passenger seat of his car when he was driving: enough to give him the idea of ​​​​offering his Han Solo a co-pilot giant and hairy, the now famous Chewbacca.
(Re)discover all the hidden details of « Indiana Jones and the Last Crusade »…