HOLLYWOOD – Led by Los Angeles Sparks guard Brittney Sykes, the WNBA championship team's executive staff donated dozens of pairs of shoes to Covenant House California for children experiencing homelessness this past Monday.
The shoes were donated, in part, to honor WNBA Phoenix Mercury star Brittney Griner who currently remains detained in Russia.
The shoes were collected throughout the WNBA season in collaboration with Griner's team, the Phoenix Mercury, and her annual Heart and Sole Shoe Drive. As the Mercury visited all 12 cities with WNBA teams, people were encouraged to bring new or lightly used shoes to be donated to local causes. The nonprofit HavASole also contributed to the shoe drive.
The shoe drive was originally an initiative by Griner to help those in need in the Phoenix metropolitan area.
As Griner remains detained in Russia, the drive was expanded throughout the league in her honor. The local shoe drive was held in Los Angeles on July 4 when the Sparks and Mercury faced off in the Crypto.com arena, KTLA reported.
Covenant House California (CHC) is a non-profit youth shelter that provides sanctuary and support for youth experiencing homelessness, ages 18-24. In their mission statement the organization notes: "We believe that no young person deserves to be homeless; that every young person in California deserves shelter, food, clothing, education … and most importantly, to be loved."
CHC provides a full continuum of services to meet the physical, emotional, educational, vocational, and spiritual well-being of young people, in order to provide them with the best chance for success in independence.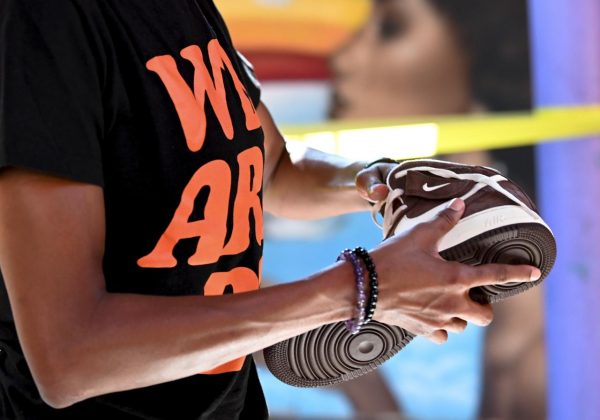 Officials at Moscow's Sheremetyevo Airport in February detained Griner — a Phoenix Mercury center and two-time Olympic gold medalist after customs inspectors allegedly found hashish oil in her luggage. The State Department has determined that Russia "wrongfully detained" her.
"I'd like to plead guilty, your honor, but there was no intent," Griner told a Moscow judge during the second hearing in her trial, according to the New York Times. "I didn't want to break the law."
President Joe Biden and Vice President Kamala Harris spoke with Cherelle Griner earlier this month and U.S. Chargé d'Affaires Elizabeth Rood delivered a letter from the president to the WNBA star in answer to a letter Griner had written to Biden pleading for his assistance in gaining her freedom.
Secretary of State Antony Blinken after Brittney Griner's guilty plea reiterated the Biden administration remains committed to securing her release.
"We will not relent until Brittney, Paul Whelan, and all other wrongfully detained Americans are reunited with their loved ones," tweeted Blinken.